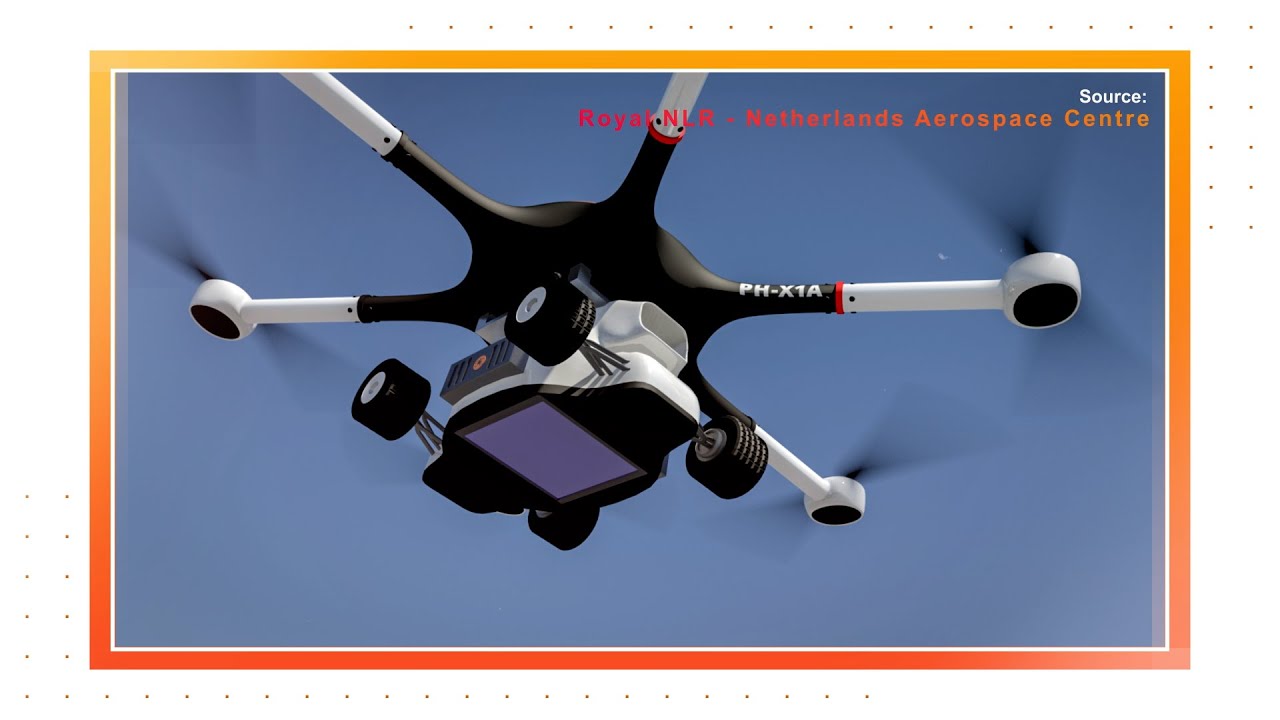 Fieldlab Zephyros has initiated the Automatic Turbine Blade Inspection and Repair (AIRTuB) Program. The first project in this program aims to develop complete and autonomous inspection and repair of turbine blades in offshore wind farms.
Over the last decade, wind turbine manufacturers have worked tirelessly to reduce the Levelized Costs of Energy (LCOE) of offshore wind farms. Bigger turbines have been developed and built, with blade tips that can reach speeds between 500-600km/h and cover a distance of up to 2,500,000 km annually. At such high speeds, leading edge erosion (LEE) is more likely to develop. At the same time, there is pressure to extend the lifetime of offshore wind turbines to up to 40 years.
Blade damage amongst with Leading Edge Erosion (LEE), caused by offshore weather conditions like rain, hail and salt, and dirt but also lightning- and bird strike, is currently one of the biggest challenges for the wind industry. While most aspects of the offshore wind industry are becoming increasingly automated and advancing technologically, blade inspection, maintenance and repair is still a labour-intensive task, drones are sometimes used, but automation is still in its infancy.
How is it done now?
Currently, tmaintanance echnicians often still descent with ropes down along the blades for inspection and repair. Offshore blade inspection is expensive, dangerous, and extremely time-consuming. It causes downtime, can only be carried out under certain weather conditions and depends on the availability of scarce experts and vessels. Therefore, interest in automating wind turbine operation and maintenance (O&M) is rapidly growing. According to Nomea, the global market for wind turbine inspection drones was estimated at $43 billion in 2020.
Roadmap
The AIRTuB project addresses this in its roadmap. The program is divided into several tracks that will lead to a totally new approach to inspection, maintenance and repair in offshore wind farms.
Keeping the blades in design conditions
Wind farms currently have an estimated lifespan of 25 years, but there are wind farms younger than 25 years where all blades have had to be replaced once already, which puts a heavy strain on operations and LCOE. The work on AIRTuB will accelerate offshore wind energy development on a large scale, making it an even more competitive and sustainable energy source from an environmental and economic perspective.
Ferry Visser of Fieldlab Zephyros and World Class Maintenance explains: "The intention is to keep the turbine blades as close as possible to the design conditions, as this is the only way to achieve (and maintain) the highest yield. Robotized coating and repair of damage are also being investigated within this framework. A resident, fully autonomous sensing UAV (Unmanned Aerial Vehicle) and a crawler with sensing and repair functionality are being developed to do the work within the park whenever needed and continue to ensure the optimal performance of the individual wind turbines. The goal: no unnecessary downtime and no need for on-site maintenance of the offshore wind turbine done by humans."
Our dream
"We dream of a wind farm with a number of robots with their own base inside the wind farm. Based on data, models and weather forecasts, it is then a matter of the robots deciding for themselves when the ideal time is to carry out inspections and make repair interventions.
Ferry continues: "Our vision is not unrealistic or unfeasible. There are thousands of satellites in space that also maintain and repair themselves. This technology should also be possible and available for offshore wind turbines. The idea is also being developed and promoted by parties in other countries in Europe. However, the exchange of knowledge across borders remains a challenge."
The overarching goal and dream are to station several robots in a wind farm. For example, per 5 turbines, we could have one platform on one of the turbines. The basic idea is to use a drone with a sensor module for remote sensing to detect and measure the level of LEE on turbine blades in operation. The drone will hover in front of the turbine blades to enable remote sensing and land on them, where it releases a crawler that holds on to the blade. While crawling along the blade and inspecting the structural integrity of the blade, if necessary, it can perform maintenance interventions.
Precise navigation of the drone
DEMCON unmanned systems develops and supplies unmanned autonomous vehicles and is one of the partners in this project: Fedor Ester of DEMCON says, "The big challenge for this technology is that a 40-kilogram drone with a wingspan of three meters has to fly exactly one meter from the blade and take its 3-D laser line scan scan (developed by TU-Delft) there. The navigation software must work seamlessly with the drone's control system. As you can imagine, the blade and the drone must absolutely not touch. If they do, you will lose both the drone and damage the turbine blade."
Automated coating
A second sensor package to detect and measure structural damage and a third package, an automated coating system for repairing LEE, are being developed in parallel. All packages have the potential to be developed into plug-and-play modules that the drone can carry as a payload in a later phase. The modules would require the drone to touch the rotor blade or to be mounted on a crawler.
Qlayers has developed an application system that makes it possible to coat large surfaces robotised with very high accuracy and quality. The technique of this application is now suitable to be applied in a production environment for flattening the abrupt transition between the leading edge protective tape and the blade, thus increasing the aerodynamic efficiency of the blade. At the end of the project (see roadmap), it should also be possible to apply this coating to a blade in a wind farm using a crawler vehicle repairing LEE."
Crawler
"This project is about reducing the offshore wind Levelized Costs of Electricity (LCOE) by optimising turbine blade maintenance. It is estimated that the cost of electricity can be reduced by approximately 3%. But in doing so, we also want to reduce the reliance on employing people offshore for this type of work. It is about collaboration and symbiosis between different technologies. The drone captures 3D images with laserline scanning and records the location accurately so that the crawler can perform its function and task in a targeted manner.
The crawler moves over the blade with suction cups and can inspect the "area of interest" in about ten minutes. These so-called 'area of interest are the areas where we expect internal damage.
HZ-University of Applied Sciences is developing the crawler, but the movement of the crawler over the blade is still being worked on; it needs to become faster, and the crawler needs to become lighter" thus Jeroen Verschelling, Technical Project Manager of World Class Maintenance and AIRTuB.
Still, all kinds of people are needed
"In addition to the role of a number of leading large companies, it is remarkable that schools and students are also explicitly participating in this project and making a significant contribution. I am incredibly pleased about that. In the future, we will need skilled and motivated people that can handle these innovative technologies and build further upon them. The energy transition requires the expertise of people with education at MBO, HBO and University levels, who are used to managing, controlling and applying new technologies.
Therefore, it is very promising and a great success that over a hundred students have already participated in our projects and might be able and interested in working in this field after graduation. An essential part of our AIRTuB project is developing, testing, and demonstrating innovations and developing knowledge and skills." according to Ferry Visser.
Knol, E. & Coolen, E. (2020). Post 2030 offshore wind employment in the Netherlands: first indications of an outlook on direct employment regarding construction and operations & maintenance phases. Working paper prepared for RVO (Netherlands Enterprise Agency).
Unmanned maintenance is the future
Offering AIRTuB as a service to wind farm owners might be an attractive business in the future. Making a good business case is challenging as the project is still in its early stages: As we are still developing the robots and the software, it is impossible to say how much the service will cost at this stage. What is certain is that it will become increasingly difficult to find experts to service offshore wind turbines. In the course of the energy transition, the number of wind farms and, thus, the number of turbines and rotor blades at sea will increase enormously.
Today, there are the occasional blade inspections. In winter, no people enter the wind farms because the working conditions do not allow it. A ship has to go there with a crew of people also taking care of logistics and safety. Under the best conditions, the involved maintenance engineers work efficiently for a maximum of 4 to 5 hours given a nearby wind farm. If the weather conditions change and worsen upon arrival at the wind farm, the transfer to the turbine and the maintenance job cannot be done. We believe that structural inspection and subsequent repair should be carried out to keep the wind farm yield as high as possible. AIRTuB will make this possible over several years of joint research and development.
Last but not least, ecology also benefits from the AIRTuB solution. Less polluting logistics are needed (and less traffic at sea interfering with regular shipping), and potentially fewer erosion particles (composite) will end up in the environment.